Good day my friends! It's that time of year again... it's Super Bowl Sunday; and for most hockey fans, hopefully you watched the games that were on this morning because there ain't none on tonight. I, however, do like football a lot and will be watching the game. Not sure who I want to win though, because I'm still pissed about the Seahawks having their rings stolen five years ago against the Steeler; but the Packers are not only in the NFC, but they had Brett 'SwampThing' Farve for a million years. So, I'm sure I'll be watching mostly for Troy Polomalu and his glorious hair and that's about it. :)
In the spirit of Super Bowl XL and the two teams involved, I have two candidates for Boy of the Day, one from each state: David Steckel out of Milwaukee, WI and George Parros from Washington, PA.
Dave Steckel, drafted by the LA Kings as the 30th overall pick in 2001, played one season with the Team USA Developmental team and the US National team before heading to Ohio State University. Four years later, Dave joined the Manchester Monarchs where he spent one season. The next season, he signed with the Washington Capitals where he played a few games spent the rest of the season in Hershey. The next season, he made the big club and he's been centering the third line along with being a top member of their penalty kill.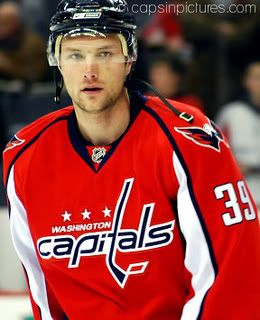 George is a boy who combines brawn as well as brains as a forward for the Anaheim Ducks. Also drafted by the Kings as the 222nd overall pick in 1999, he graduated from Princeton University with a degree in economics and was voted 4th smartest professional athlete. He's also very involved with charities including growing his hair each season to be donated to Locks of Love; and his teammates love him so much, the Ducks petitioned to have his name added to the Cup in 2007 even though he hadn't met the game criteria.